I went to La Cucina de Mamawith two of my roommates in March. I was excited to try something other than pizza and pasta for a meal since it is really weighing me down. I am sad we only have two more weeks left because I do not have time to try other ethnic restaurants on the list. My plan is to go back and hit the restaurants with all my favorites meals.
I thoroughly enjoyed my experience at La Cucina de Mama. Although it was homework, I'm glad it was assigned because I would not have made the trek over to Via del Ponte di Mezzo, 27-29, 50127 Firenze FI. Here is the link to the restaurant's website as well https://www.facebook.com/Lacucinademama/. I looked at their Facebook page before going and was a bit hesitant since I can be a picky eater. The pictures did not look appetizing to me because I have never eaten Peruvian food. I am embarrassed I judged 'a book by its cover.'
The ambiance of the restaurant was interesting and unique. The dark wooden panel walls made me feel like I was in the North Wisconsin woods not Florence. They also had décor around the restaurant that I have not seen around the city yet. For example, a fuzzy llama and winter cabin pictures hung across the wall which made me feel like I wasn't in Florence as well. When we went, only about half the restaurant was full but everyone was welcoming. We did not get any glares from the workers or customers (Sometimes we do because my voice carriesJ).
I looked at the menu for a while because I did not want to order the same thing as my roommates, and I wanted the meal to be out of my comfort zone. The prices were not bad at all (ranged from 7 euro to 18 euro) so I knew it would not be the worst thing if I didn't enjoy the meal. I ended up ordering Chicharron de pescado which is basically fried fish. It was delicious and a great change from pasta. I decided to order desert as well to satisfy my sweet tooth. Our waiter recommended the Peruvian chocolate cake which I think about a lot. I want to say I shared it, but I ate it all myself.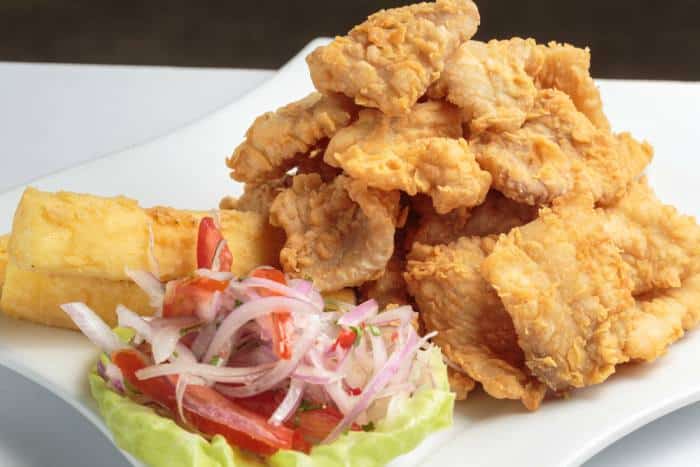 After we were done, our waiter told us about the buffet they have that we should try. I wish we could've done that instead so I could taste test more Peruvian food. Overall, I am happy I left my comfort zone, which is now Italian restaurants, and tried something new. It was a great bonding experience as well for my roommates and I since we do not get to see each other that much unless we travel together on the weekends. I would recommend this restaurant to people who are not picky and want a filling, cheap meal. Do not worry about dressing up either because most people wear jeans and jackets. I hope you get a chance to check it out as we enter our final two weeks.